The Survivor Historians Podcast
"The perfect podcast to mow and edge your lawn to." -Listener George Hanns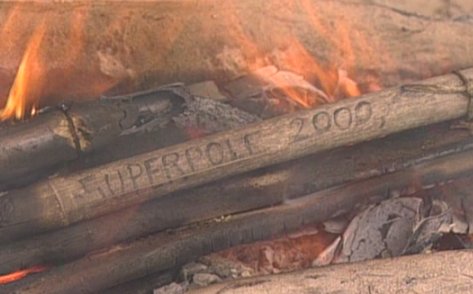 Superpole 2000. We will never forget.
Hello. My name is Mario Lanza and I have been a Survivor writer since August of 2001. In fact, at one point during the show's peak (between 2001-2004), I was probably the most widely read Survivor writer in the entire world.
The reason I put together the Survivor Historians podcast is because it seemed to me like a great deal of Survivor history has been lost in recent years. There are so many new fans of the show these days, and so few original Borneo fans remaining, that practically the entire history of Survivor has been rewritten to only include things that have happened from season 12 (Exile Island) on. And as much as I like the post Exile Island seasons, I just didn't think that was fair. I didn't think it was right that a show with so much history and so much significance had a fanbase that knew so little about its most formative years.
And so, well, here we are. I put together the Survivor Historians podcast in March of 2012. And I did so by gathering together three of the sharpest and most knowledgeable Survivor fans I know. I got Paul Asleson from The Tribe (who will destroy anyone on the face of the Earth in a Survivor trivia contest, trust me on this), I got Beatles from Survivor Sucks (who is pretty much the most knowledgeable Survivor fan on the #1 Survivor fan site, and has been for years), and I got Jay Fischer, who is one of the funniest and smartest guys I know, and who is also an old school episode one fan just like the rest of us. And then of course the fourth podcaster is me. Most people know me (Mario Lanza) from when I was the head writer (2001-2004) at a website called Survivor-Central. Either that or from my project counting down the funniest moments in Survivor history called the Funny 115.
In any case, I hope you like the Survivor Historians podcast. I can't guarantee we will do a lot of them, but if you like them just drop me an email and maybe we will do more.
And I hope you enjoy your brief foray into Survivor history.
-Mario Lanza - March 31, 2012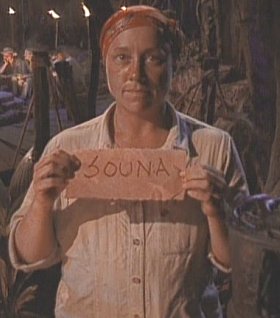 The very first vote in Survivor history. The infamous "Souna" vote.
Mario's Survivor Writing Archives